Is your web site making you money? Is it helping your business or just costing you more money with little return on investment? Does your web site clearly tell
potential new customers who you are, what you do and why they should choose you? Are you regularly adding new and valuable content to your web site to engage potential new customers?

In HubSpot's article "7 Reasons Most Enterprise Websites Fall Short" they explain that "
Here are seven reasons why most enterprise websites fall short, and why ShoreTel is a great example of doing it right:
1) No Clear Description or Calls-to-Action
Many websites fail to answer "Who I am," "What I do," and/or "What can you (the visitor) do here."
If you're a well-known brand or company (i.e. Coca Cola) you can probably get away with not having to describe who you are and what you do; but the reality is, many enterprise businesses still need to answer these questions so that each visitor knows they are in the "right place." Steven Krugg sums it up best in his best-selling book, Don't Make Me Think. If visitors can't identify what it is you do or where to go to find what they need within seconds, they won't stick around long.
ShoreTel does a fantastic job of this on their homepage — describing who they are and what they provide — and their sub-page descriptions are great, too.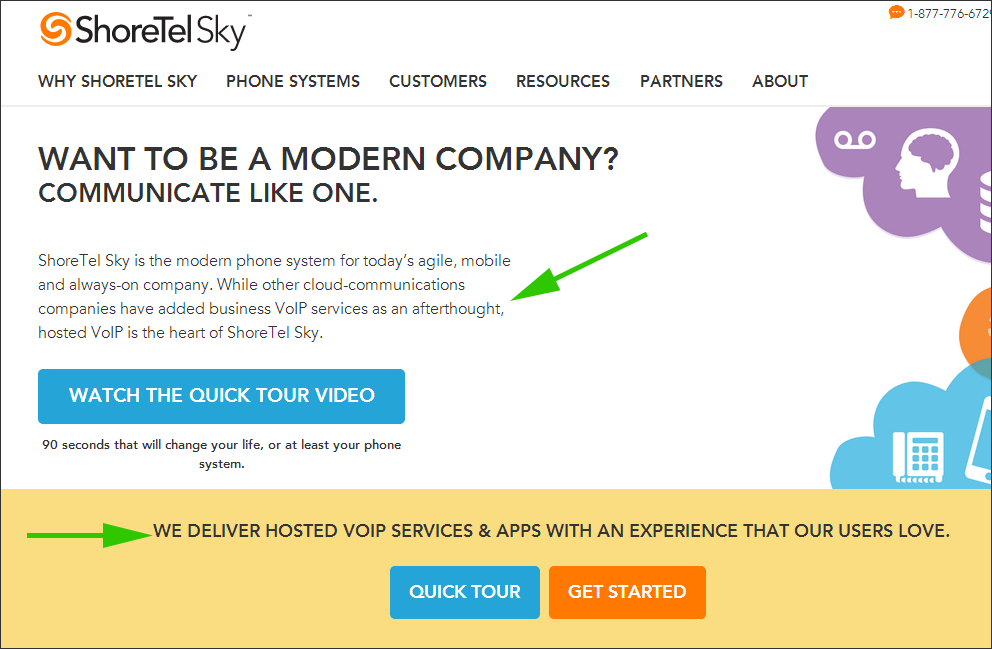 Additionally, ShoreTel's site guides visitors to the next step with calls-to-action (CTAs) that clearly stand out with the right use of size, color, and verbiage. The CTAs are placed both above and below the fold, yet don't interfere with the browsing experience.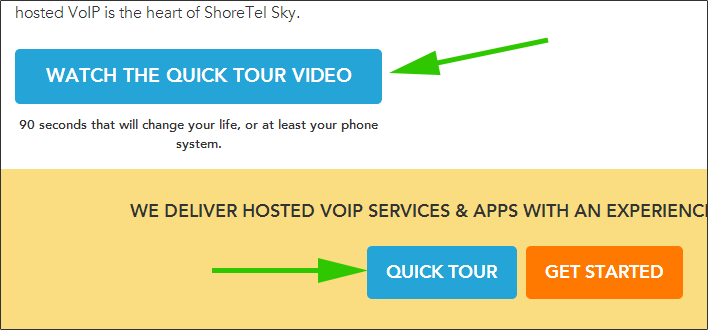 The site also has a "sticky" top bar that contains one primary CTA.

Extra Resources:
2) Cluttered Design
American statistician and professor Edward Tufte once said, "Clutter and confusion are failures of design, not attributes of information."
Often, marketers tend to over-complicate their websites with too many elements or far too much information. After all, it's more difficult to take away than it is to add. And that, dear marketers, is what causes clutter. In fact, some of the most effective websites are also the simplest.
ShoreTel Sky is a refreshing balance of whitespace and content. You'll notice almost every element serves a purpose.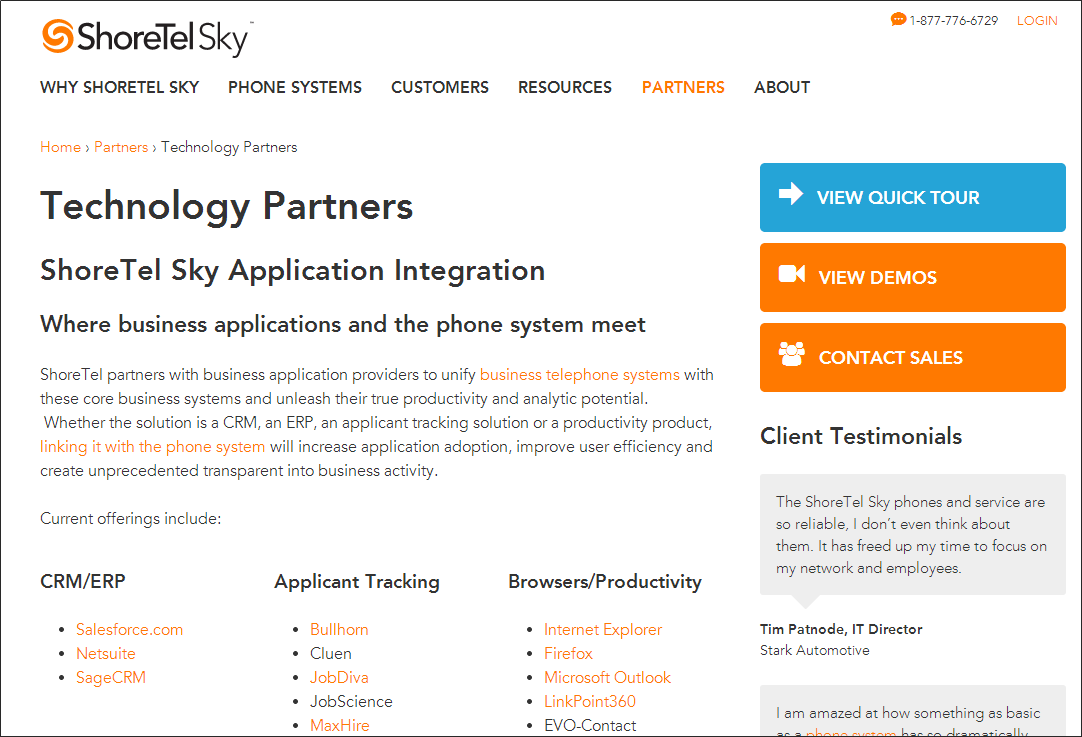 Here are a few ways this website achieves a clutter-free aesthetic:
Simple, two-column layout
Clear headlines, sub-headlines, and body copy
Great sentence and paragraph spacing
Lots of whitespace
Only four primary colors and great contrast
Great use of icons and graphics
Even we've been redesigning our site pages to focus on simpler design. See examples here and here.
Extra Resources:
3) Lack of Fresh (and Valuable) Content
Too many enterprises have what I call a brochure-wear website. These are sites that are all pretty pictures and polished product content, but not much else.
The thing is, people don't arrive on your website to hear you talk about yourself. Instead, you need to offer content that is valuable to your audience, whether it be informative, educational, or entertaining. You need content that attracts them to your site and keeps them there.
The best websites publish valuable content often, such as whitepapers, ebooks, videos, graphics, blog posts, and more. ShoreTel publishes more thought-leadership content in one quarter than I see most enterprises publish in a year. All of this regularly published content is what helped them increase search traffic 60% and leads more than 36%.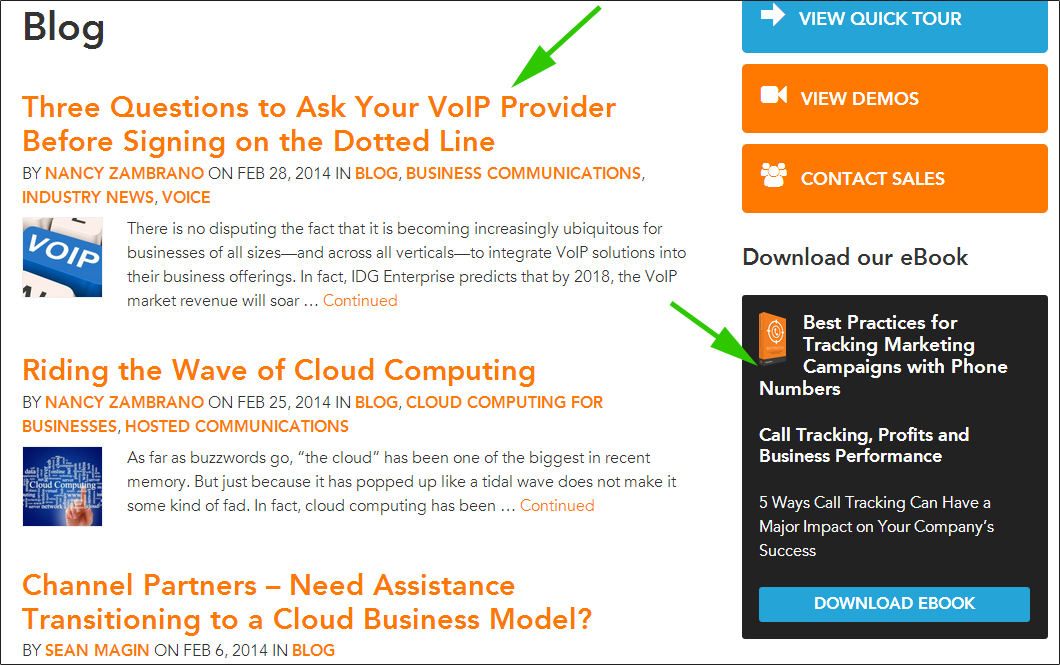 In addition to their blog, ShoreTel offers a variety of ebooks: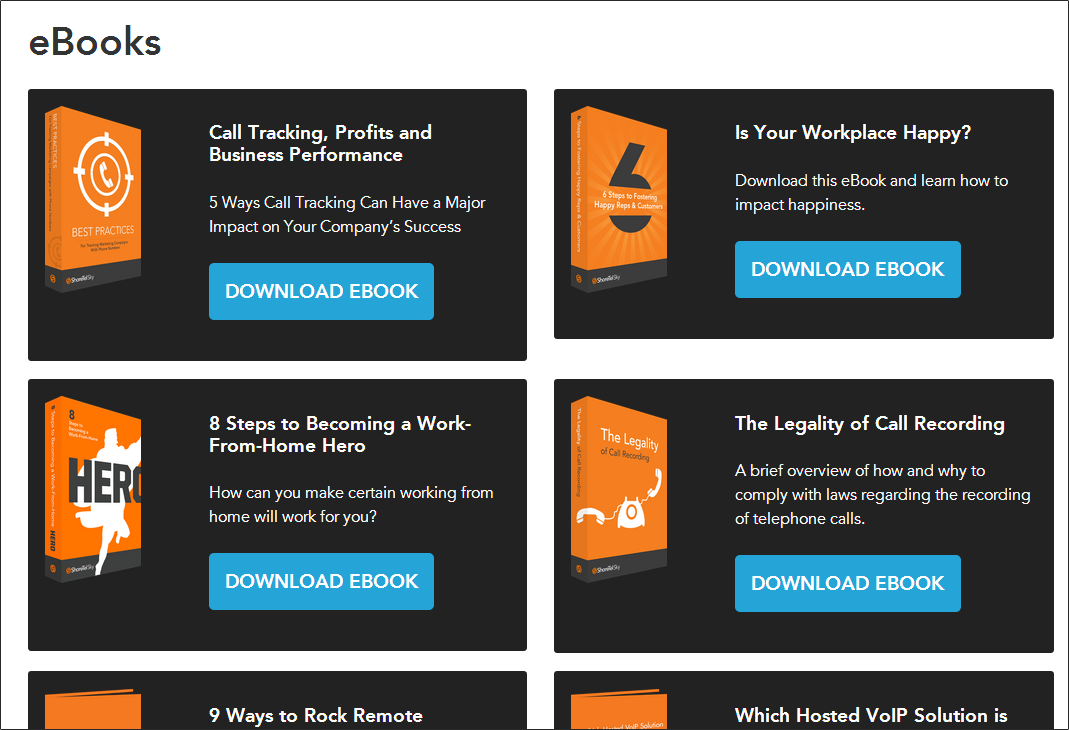 As well as an awesome video library: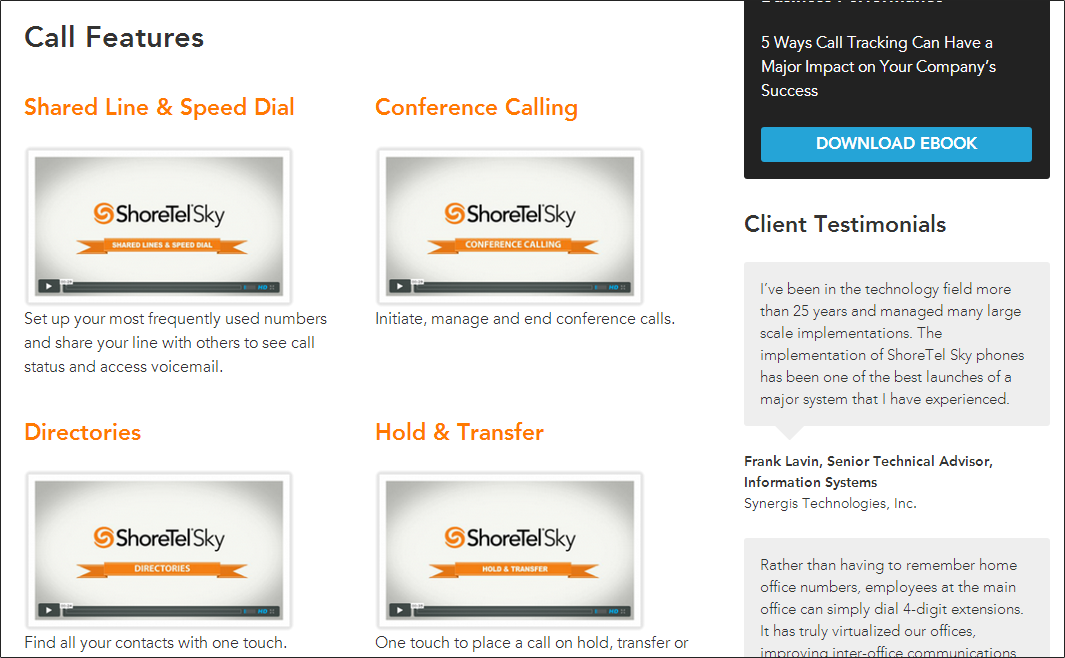 4) Difficult to Find the Right Information
According to the Science of Website Redesign, 76% of consumers say the most important factor in a website's design is "the website makes it easy for me to find what I want."
Douglas Hughmanick of Paramount Farming Company says:
"The most important part of a perfectly designed website is connecting the user with the information they came to find. If your design is easy to navigate and captures the interest of the user, you have likely made good design decisions. This doesn't mean using the same standard layout every time, but thinking through the objective of your project and the audience you are targeting."
One reason I love ShoreTel Sky's website is the super-simple, no fluff navigation. The site only features a handful of primary navigation options and a simple one-tier drop-down beneath each link, all simply organized and in plain English. Overall, it's very effortless to navigate this website and find the information I'm searching for.
Even if you have multiple divisions or complex product offerings, there are simple ways to organize your website that makes it easy for the visitor to navigate. In ShoreTel's case, their VoIP product offering is on a separate website, but that doesn't always have to be the case.Microsoft is one example of a website with multiple products, most of them as a sub-domain under the primary microsoft.com domain.
Extra Resources:
5) Not Mobile Optimized
By the end of 2014, more people will access the web via mobile devices than PC. Still, 46% of mobile users have difficulty interacting with websites — so it makes sense that 62% of companies that designed a website specifically for mobile increase sales. So if you haven't gone mobile yet like these guys, now's the time.
Extra Resources and Examples:
6) Bad at Generating Leads and Demand
We recently learned that the number one most important objective for enterprise marketers this year is to increase new leads and prospects; the second most important objective is brand awareness.
What many marketers might not realize is that both of these objectives are universally linked. The more demand you're able to capture through your website, the more you're able to improve brand perception and awareness organically.
A website that isn't generating leads or demand isn't doing its job. The goal of a website isn't just to sit there and look pretty — it should be an extension of your sales team to help boost new business.
ShoreTel offers plenty of opportunities to capture leads by using calls-to-action to direct visitors to dedicated landing pages, which contain a form in order to capture a visitor's contact information (thus, generating a "lead" or "prospect"). More importantly, ShoreTel Sky provides a lot of valuable marketing offers that help to generate even more leads that they can then nurture to become sales qualified.
The number one issue I find with most enterprise websites is that they only offer bottom-of-the-funnel offers, such as a "Contact Sales" request. These are only good when a visitor is ready to buy. But we all know that the majority of a buyer's purchasing decision happens before a sales rep even knows about it. A website should contain top-of-the-funnel content (ebooks, infographics, whitepapers, etc.), middle-of-the-funnel content (case studies, demos, etc.), and bottom-of-the-funnel content (product information, contact sales request, etc.) in order to capture demand at every stage of the funnel.
You'll notice a Contact Sales form rests at the bottom of most product pages, because it aligns with the visitor's stage in the buying cycle.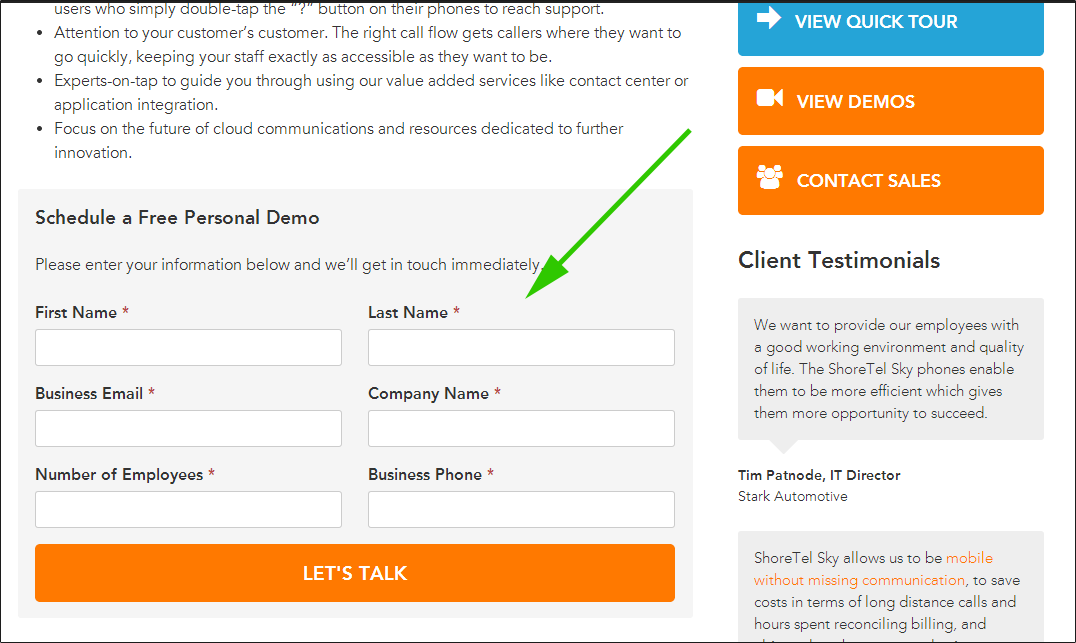 The website also has pop-up Modal Windows:
Now, let's say your business only sells to the Fortune 100, or to a niche audience, and the actual volume of potential traffic and leads are low. Turning your website into an inbound marketing machine will actually help you capture more earned media in the long run, and improve your branding initiatives. That extra boost in engagement and word-of-mouth exposes your brand to more people, and helps turn visitors into fans, and fans into customers.
Extra Resources and Examples:
7) Gobbledygook
I love being in the marketing profession. But there's one thing that embarrasses me as a marketer and that's when I see marketing-speak, or what is often referred to asgobbledygook. Terms like "cutting-edge," "innovative," and "mission-critical" are littered across many enterprise websites.
Gobbledygook exists in a lot of marketing materials and, ironically, it's only good at reducing your marketability. "When you are talking to your existing and potential customers your job is to use the language that they use," says David Meerman Scott. "Don't speak using your own egotistical jargon."
The best websites, like ShoreTel, avoid the jargon and speak like a human instead of like a corporation. Now, I wouldn't consider myself the primary buyer of a VoIP system. But the language used on ShoreTel's website is so clearly explained, I fully understand what they sell, how their product works, and why I should buy it. Even if you sell complex products, it's Marketing's job to translate that complexity into simplified terms so that even your grandmother has a basic understanding of what you offer."
Click here to read the full article on HubSpot.
Pegasus Online Marketing can help you build a winning, engaging and money making web site. Contact us for a free consultation.